No leakage – Magnetic drive and static O-ring can ensure the inside pump medium isolated from the outside. The pump head and motor are integrated, and the brushless driver is integrated in the motor tail, which makes the product structure compact and more suitable for the occasions with narrow installation space.
Attentions:
1.400 Mesh filter shall be installed at the inlet of gear pump.
2.This gear pump is suitable for continuous operation for a long time and can not be used under the condition of frequent start and stop.
3.Before using, squeeze in a small amount of medium to lubricate the gear from the gear pump inlet.
Product Model Selection Instruction:
Pump Head

Motor

I

0.07

S

40W

"I" means the Integrated Structure

Pump revolution, Unit: ml/rev, note ① for details

Pump body materials, note ② details

Motor type and Power
Notes:

1. Pump output volume: 0.07,0.15,0.3,0.6,0.9,1.5,3.0,6.,12.0 (Unit: ml/rev)
2."S" means pump body material is 316L, gear and shaft sleeve are PEEK, seal with PTFE, the rest others are 316L.
"T" means pump body material is 316L, gear and shaft are Tungsten steel, shaft sleeve is PEEK, seal with PTFE, the rest others are 316L.
"P" means pump body material is PPS, gear materail and shaft sleeve are PEEK, seal with FFKM, the rest others are Hastelloy.
"H" means the pump body materials is Hastelloy, the gear and shaft sleeve is PEEK, the seal materials is PTFE, the rest of the pump flow material is Hastelloy, the appearance and size is same as 316L pump, details product parameters refer to 316L pump head.
Product Model : I0.15S40W
Product Diagram:

Product Parameters:
Pump Model

Motor Type

L1(mm)

L2(mm)

Pressure(bar)

Weight(kg)

Rated Current(A)

Imp.&Exp. Size

Flow(L/H)

I0.07S

40W

93.1

30.5

8

0.77

2.5

G1/8

2.1~18.9

I0.15S

95.4

32.8

0.77

4.5~45

I0.30S

95.4

32.8

0.77

9~90

I0.60S

95.8

36.9

4

0.78

18~180

70W

108.1

36.9

8

0.93

3.3

18~180

I0.90S

113.1

41.9

4

0.94

27~270
Pump Head Parameters

Motor Parameters

Motor wiring definition

Fluid Viscosity

0.2-1500cps

Drive Type

Built in drive DC brushless

Red

+24V

AAmbient TemperAture

-40℃-70℃

Rated Voltage

24V

Black

0

Static sealing

PTFE

Speed regulating voltage

0-5 (0.35V ON 0.3V OFF)

Brown

Speed control signal 0-5V input

Pump Body

316L

Speed rpm

500-5000rpm

Gear

PEEK、316L

Working system

Continuous

Blue

square wave, 2 pulses per
The values in this table are for reference only.
Remarks:
OEM service are avaiable according to your request.
The specifications are only for reference, for details checking, please feel free to contact us.
Pump head structure diagram: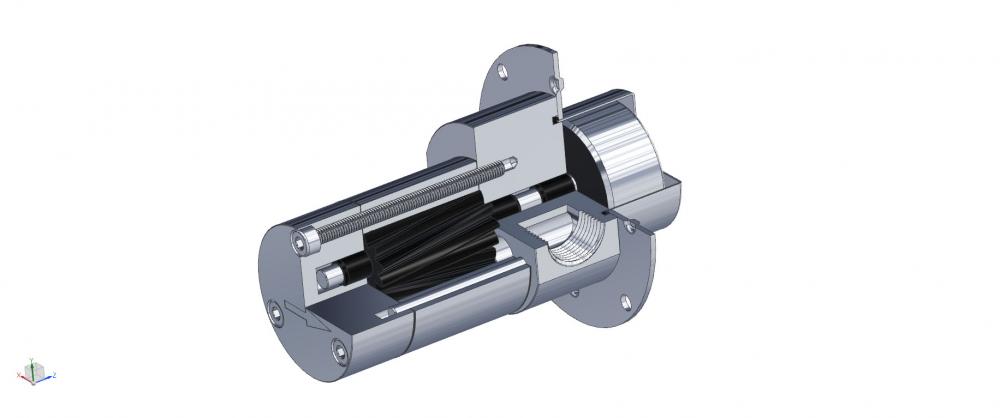 1. Inner-hexagon screw*3 5. Pump body 9. Rear cover 13. Countersunk head screw*3
2. Front cover 6. Tef/lon gasket*2 10. O-ring 14. Isolation cover
3. Shaft sleeve*6 7. Driving gear 11. Platen
4. Pin*2 8. Driven gear 12. Internal magnetic steel



Product characteristic diagram: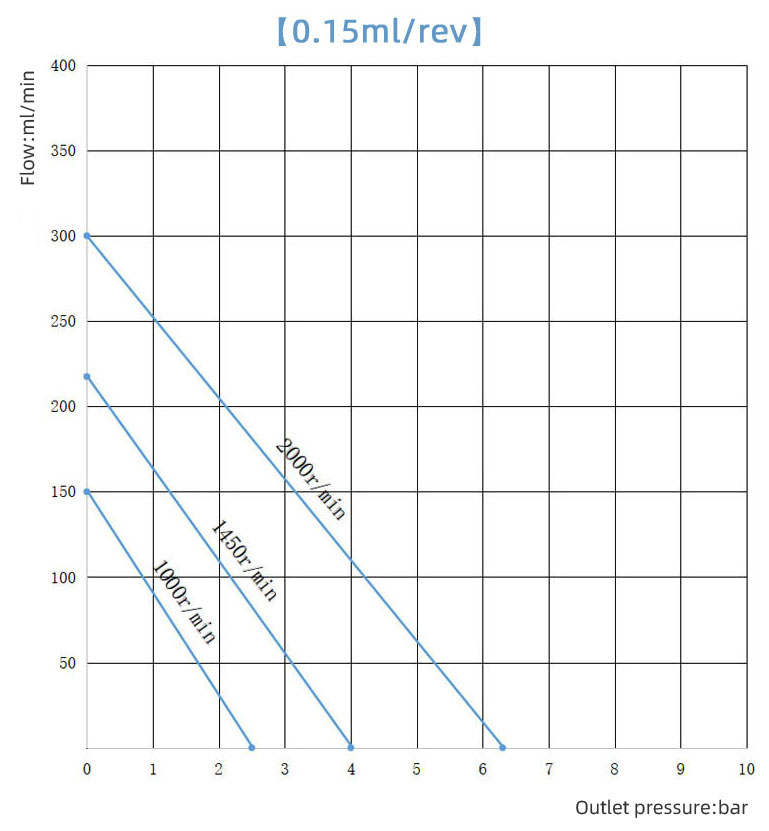 40W Motor Instruction
Motor parameter

| | | |
| --- | --- | --- |
| (Number of phase) | N | 3 |
| (Rated Voltage) | VDC | 24(8-30VDC) |
| (Rated Power) | W | 40W |
| (Speed regulating voltage) | VDC | 0-5 (0.35V ON 0.3V OFF) |
| (Range of speeds) | RPM | 500-5000 |
| (Maximum current) | A | 2.2A |
| (Instantaneous protection current) | A | 5A |
Wiring instructions
| | |
| --- | --- |
| Red | +24VDC |
| Black | GND |
| Brown | Speed control signal 0-5V input |
| Blue | 5V level, square wave, 2 pulses per revolution |

Secure features
Operation protection: when the motor running current reaches the limit current of 2.2A, the motor drive will start the protection and stop running.
Locked rotor protection: when the pump body is locked, the drive will start the protection function and cut off the internal power supply of the motor.
Software / hardware over-current protection: when the system detects that the instantaneous current of software and hardware inside the motor is greater than 5a, the drive will start the protection.
Hall error protection: when the motor Hall sensor failure, the motor will start protection stop running, to prevent burning the motor.
Under voltage protection: when the operating voltage is lower than the specified range, it will stop operation.
Performance data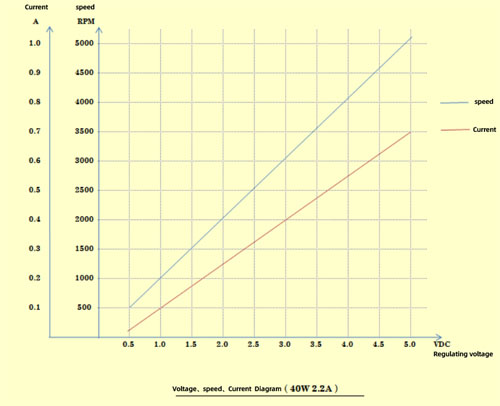 Note:The valve door is fully opened and tested under no-load condition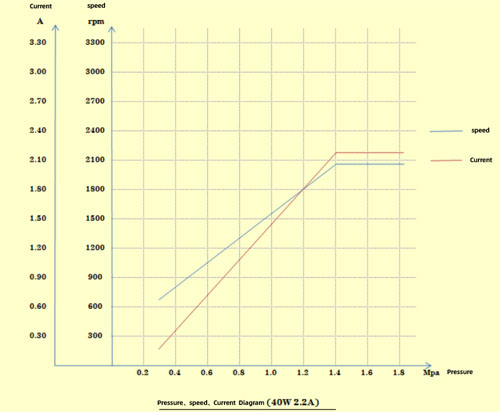 Note:The valve door is blocked and tested under full load conditio
Product Characteristics:
No pulse, high precision.
the external gear design makes the pump flow relatively unaffected by the system pressure,and the flow output has no pulsation, which can accurately measure the flow, and has strong repeatability.
Stable transmission.
Gear transmission can ensure constant instantaneous transmission ratio.
Zero leakage.
no packing seal or mechanical seal, no wearing parts, using magnetic drive, static seal,truly achieve zero leakage.
Corrosion resistance.
304 / 316L, Hastelloy and engineering plastics can be selected as pump body materials,which can be used in most chemical media.
Efficient and convenient, long service life.
adopt the way of motor direct drive, reduce the vulnerable parts. High efficiency and energy saving, simple maintenance, low installation cost, long service life.
Applicability.
suitable for high differential pressure, high system pressure and wide range of medium viscosity.
long service life.
The magnetic drive design of the non dynamic seal makes the shaft end no longer need the dynamic seal, which ensures the leakage free operation of the pump. The solid and stable shaft support can ensure the accurate meshing of the gear when the pump is running at high speed, ensure the smooth operation of the pump, the high accuracy of metering and the long service life of the pump.
Diversified drive mode.
magnetic drive gear metering pump can be directly connected with DC brushless motor,2-pole and 4-pole AC motor without reducer. The flow control of the pump can be realized by the controller of AC, DC, brushless DC and other motors. We can provide a variety of standard driving methods to meet the needs of customers.
A wide range of applications.
magnetic drive gear pump in the design, manufacture and application of a large number of use of magnetic drive, pump and motor technology. It has the advantages of no pulsation, long life and no leakage. These advantages make our products widely used in chemical, medical, laboratory, water treatment, food and other industries.
Applicable conditions:
All kinds of liquids, high precision fluid transportation, high repeatability, continuous small flow without pulsation.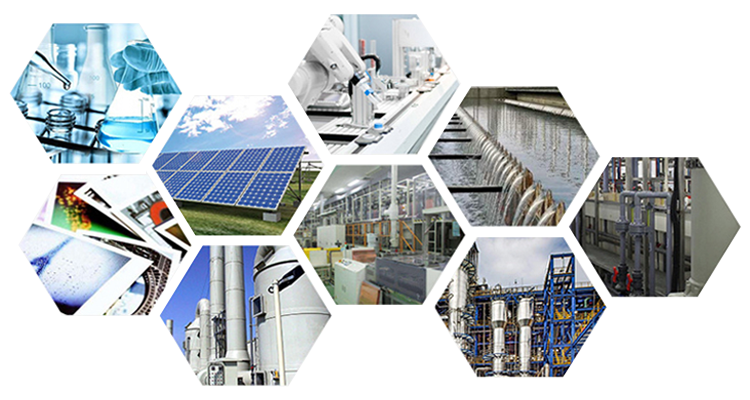 It is used in aviation equipment, aircraft, spacecraft, chemical laboratory, chemical reagent adding, film manufacturing, pharmaceutical machine equipment, various lasers, micro cooling device of sighting instrument,tobacco flavoring adding, inkjet printing machine manufacturing, inkjet printer manufacturing, high-performance color printing machine and other industries.
| | | |
| --- | --- | --- |
| Industrial machinery and equipment | Water treatment | Food and cosmetics |
| Inkjet printing/painting | Mask making | Food and Beverage filling |
| Oil transportation | Booster pressure | Filling of perfume cosmetics |
| Sand mill/Grinding | Circulating cooling | Quantitative Transport |