Product Description
PANASONIC SMT CM402 CM602 feeder sensor KXF0DKVAA00 N610012889AA
SMTPLAZA SPECIALIZNE IN SMT SPARE PARTS FOR FUJI,JUKI,YAMAHA,PANASONIC SANSUMG, AND MPM PRINTER PARTS.
other panasonic smt machine spare parts
Panasonic Cm Feeder Sprocket
panasonic cm machine filter N610071334AA
smt panasonic fitler supplier
SMT panasonic nozzle
Part Number: KXF0DKVAA00 N610012889AA
MOQ: 1 piece
Quality: original new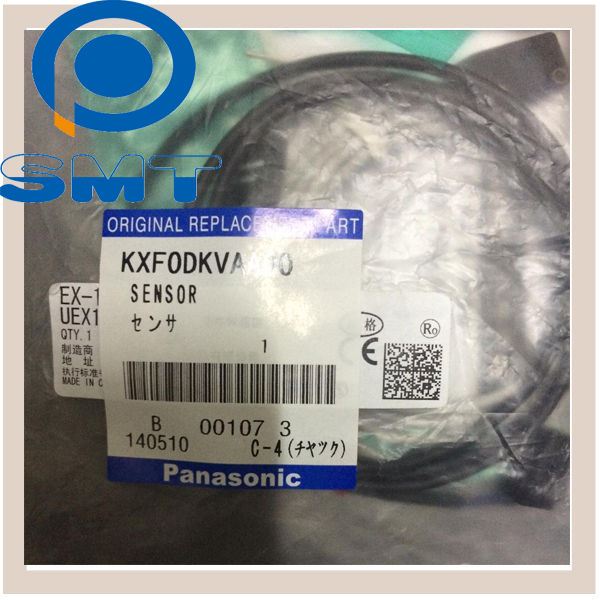 CM402.CM602.NPM.BM221 Sparepart list

1 KXFE00F3A00 CPU board(CPU)N610087118AA(SCV1ER)
2 KXFY001LA00 RING I/O BOARD(I/O)KXFE000FA00(NFV2CD)
3 KXFE0005A00 ONE BOARD MICROCOMPUTER(HEAD I/O)MC16/H3 N610090171AA
4 KXFE0004A00 PC BOARD W/COMPONENT(HEAD I/O)MC15/H8
5 KXFE0001A00 PC BOARD W/COMPONENT (MC14CA)
6 KXFE000GA00 PC BOARD W/COMPONENT (NF2ACB) KXFE00FKA00
7 KXF0DWW9A00 CONVERY MOTOR N510048981AA
8 KXF0DGEAA00 R MOTOR3W N510042740AA/DT401
9 KXF0E1LXA00 R MOTOR CM402(TS4602N1520E500)50W
10 N510008188AA 50W CM602 MOTOR :4602N1521E500
11 KXF0DGFAA00 Z MOTOR 25W N510042739AA/DT401
12 KXF0CWQAA00 Z motor 20w N510042738AA/N510030834AB
13 KXF0DQXAA00 Pressure Sensor DT401 SENSOR:N510025620AA
14 N610026749AA PRESSURE SENSOR CM402 VS1-4, KXF0DWVWA00, N610040037AA
15 N610027221AA PRESSURE SENSOR CM402 VS5-8
16 N610017022AD PRESSURE SENSOR CM602 VS1-6, N610017022AC
17 N610017023AC PRESSURE SENSOR CM602 VS7-12, N610017023AD
18 N510002508AA Z MOTOR 15w CM 402/602 N510042737AA
19 N510015534AA SHAFT DT401, N510037999AA
20 N510015533AA SHAFT CM402, KXF0DUPAA02
21 N510028739AA SHAFT CM602/N510054811AA, N510024102AA
22 N510002505AA SHAFT
23 108072906402 SHAFT MSF
24 KXFX036HA00 PCB CAMERA
25 KXF0DLKAA01 VALVE VK332-5HS-M5
26 KXF0DLLAA01 VALVE VK332V-5HS-M5
27 KXF0DR4AA00 VALVE VQZ1421-5MO-M5 CM202
28 KXF0DR6AA00 VALVE N510029538AA/VQZ1321-5MO-C6
29 KXF0DX8NA00 VALVE CM402/10-VQ110U-5MO-X46
30 KXF0A1RAA00 VALVE VQZ115R-5MO-M5-PR
31 KXF0A3RAA00 NOZZLE CHANGE VQZ1220-5MO-C4
32 KXF09X2AA00 VALVE VQZ1121-5MO-C4
33 KXF05PLAA00 GREASE
34 KXFW1KS5A00 8MMFEEDER
35 KXFW1KS6A00 12/16MMFEEDER
36 KXFX03DGA00 Nozlle:110
37 KXFX037NA00 Nozlle:115A
38 KXFX0384A00 Nozlle:120
39 KXFX0385A00 Nozlle:130
40 KXFX0386A00 Nozlle:140
41 KXFX037SA00 Nozlle:1001
42 KXFX037TA00 Nozlle:1002 KXFX03DUA00
Please do not hesitate to contact us with your part number for SMD FUJI, YAMAHA, JUKI, PANASONIC and SAMSUNG.
We have good source and large ready stock for major brand SMT automotive spare parts. Such as, feeder/feeder parts, nozzle/nozzle holder/nozzle shaft, laser sensor, servo motor, driver, controller board, solenoid valve, ball screw, belt, cable, sensor etc.
SMTPLAZA is one of the SMT solution provider for Global customers,offer Automatic Insertion Machines spare parts, SMT spare parts with feeders, pick up nozzle,feeder parts, motor, PCB board, Laser, feeder calibration etc. for FUJI, YAMAHA, PANASONIC, SIEMENS SIPLACE, SUMSUNG SMT equipments, bother DEK and MPM printer machines spare parts. Large stock with original quality parts,competitive price, confidence with satisfy warranty, to gain good reputation from Globle customers.
Related Products:
1. Fuji Grease Gun
2. Panasonic Grease Gun
3. THK MG70 Grease Gun Unit
4. NSK HGP Grease Gun Unit
5. Yamaha Grease Gun Unit
6. 400G Grease Gun
7. THK, NSK, Panasonic, Yamaha, Kluber Grease, high temperature grease/ oil, etc.
8.SMT Carrier tape producer,High Viscosity AI Splicing Tape,SMD yellow splice tape
Our advantage
A. Various brands available
B. Offer customized service
C. Large stock- more thank 5000 kinds of parts, fast shipping
Packaging & Shipping
Shipping
We ship to Worldwide.
Items are shipped via Fedex, DHL, or UPS, for some country which is not available, will choose EMS TNT or other ways.